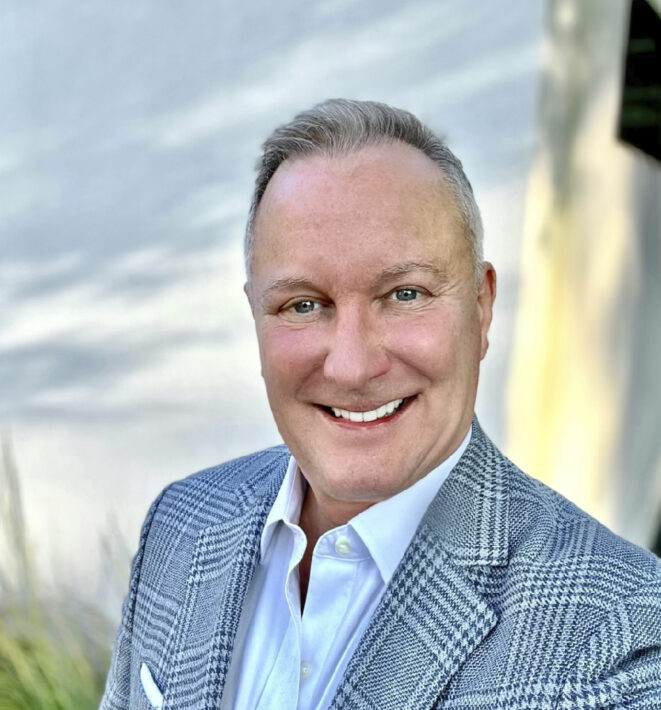 I like clients to win in the marketplace, and the talent at Pace helps them do that…our team's strategic thinking and creativity amazes me every day.
Gordon Locke
President and Chief Marketing Officer
Gordon began his career in marketing and advertising as a copywriter and photographer. He would soon become a world traveler, often in the air heading to advise or collaborate with amazing brands in more than 42 countries (not to mention cool cities like Kuala Lumpur, Buenos Aires, Addis Ababa, Shanghai and Mumbai). Gordon is a native North Carolinian and has lived in Washington, D.C., Honolulu, Dallas, and now Greensboro, North Carolina.
Gordon leads Pace's client portfolios in addition to our centers of excellence including the Pace studio, Pace Interactive and Performance Media team. He is a consummate client champion often found in a virtual or live whiteboard session collaborating with clients, our strategists and creatives on innovative ideas. Gordon has a formula for marketing success that includes a proven grasp of strategy, execution, culture and structure; he is a blend of right-brained and left-brained thinking. He has mentored 18 CMOs from Fortune 500 brands and is a coach for many aspiring leaders in the industry.
Before Pace, Gordon spent 25 years getting powerful results for companies such as The Ritz-Carlton Hotel Company, Grand Heritage Hotels, Office of the Comptroller of the Currency (OCC), Sabre/Travelocity, Hawaiian Airlines and Rosenbluth-American Express. Since joining Pace, Gordon has continued to bring success to many clients over the years such as Rackspace, USAA, Fossil, Wells Fargo, Truist, PepsiCo, Hilton, Teradata, Lycra, HP Enterprise, Dell and Intuit.
NEWS AND FEATURES
The Content Marketing Association Webinar—Brand Attachment: The Realm Beyond Brand Loyalty and How to Get There
An impactful 30-minute webinar hosted by the Content Marketing Association and led by Gordon Locke, Pace's president and chief marketing officer, exploring the science behind brand attachment and tactical ways brands can move their audiences from loyalty into the realm of attachment.
Humans, Now and Then Podcast—Gordon Locke: The Power of Storytelling in Communicating Your Brand
Rebecca Scott, host of the Humans, Now and Then podcast and Pace's Gordon Locke, president and chief marketing officer, discuss the science behind human attachment, the role storytelling plays in achieving brand attachment and the shift toward a marketplace focused on purpose.
Greensboro-Based Pace Communications Helps Small Businesses Uncover the Secrets Behind Global Companies' Success
Gordon Locke, president and chief marketing officer at Pace, joins Brad Jones for WGHP FOX8's "Made in NC" segment to discuss the Pace Impact Project, its importance and the four inspiring Triad organizations selected as the program's first-ever cohort.
Subscribe to PACE Insights