You're still not using Pinterest? It's time to jump on the bandwagon.
Pinterest is making quite the resurgence over the course of 2020 and 2021, especially among the Gen Z crowd. The number of Gen Z users grew 40% from 2019 to 2020. Perhaps they were pulled in by the nostalgia of the app they once knew or its newer, sleeker design and features, but it's difficult to say. Pinterest was quite the hot commodity during the early 2010s, though arguably no one really knew how to use it to its full potential. Many members of Gen Z were in middle school at that time and simply pinned anything and everything with no rhyme or reason.
With Pinterest making its comeback in 2021, we need to recognize the importance it has in terms of marketing to Gen Z. When it comes to marketing to Gen Z, many brands have gone heavy on their social media presence, especially on TikTok and Instagram. But with Pinterest climbing the ladder as the 14th largest platform, with 459 million monthly active users as of January 2021, perhaps advertisers should be diverting their attention.
Well, let's take a look at some of the statistics.
Possibly the most important statistic—eight in 10 Pinterest users say the platform makes them feel positive. This is perhaps the most significant aspect to take into account when marketing to Gen Z because it's often where other social platforms fall short. Many other social media platforms have a news component, and lately, global news can be pretty dismal.
It is important to be in the know about current events, but sometimes we all just need a break. That's probably why 90% of people polled by Pinterest and Morning Consult called Pinterest an "online oasis." The app allows people to simply scroll through outfit inspiration, recipes, fall aesthetics, wedding ideas and other positive topics. It makes it easier to tune out some of the negative noise that's so prevalent on other social platforms.
New Pinterest Features for Brands
If you're looking to reach a younger audience, keep Pinterest in mind. The platform has been adding new features for advertisers to make it even easier to market to Gen Z. Pinterest Premiere is one example. Pinterest Premiere is a video advertising tool that allows advertisers to target specific demographics or categories when designing video ad campaigns. Video content has been doing really well for advertisers on the platform. According to Pinterest, pinners who view branded video content on the platform are more than two-and-a-half times as likely to make a purchase afterward.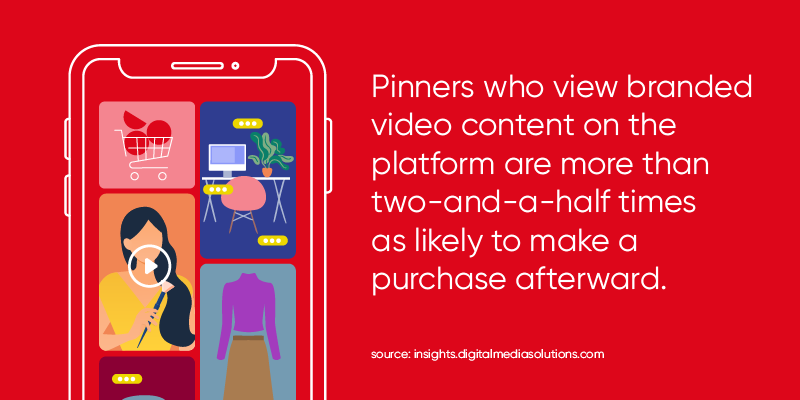 Shopping ads are another popular format that many platforms have taken advantage of, including Instagram and Facebook, but they are booming on Pinterest as well. Pinterest reported that shopping ad revenue grew faster than their business overall and there was a six-fold increase in the number of businesses using the shopping ads format in the fourth quarter of 2020. This increase was also coupled with 85% more engagement across shopping surfaces on Pinterest—or those "surfaces" within which ads are placed on Pinterest—between April and October 2020.
So what kind of ads do people want to see on Pinterest? Pinners are 70% more likely to engage with product tags in scenes that show the product in use. People want to see your product in action rather than just in a still product shot that doesn't tell a story. According to Pinterest, campaigns that show someone using your product are more likely to drive sales, too.
Collections ads are also a useful tool. Collections ads allow marketers to promote multiple products in the same pin. The full-screen ad experience displays a hero image and up to 24 secondary pins. This means a collections ad shows a large statement image first with up to 24 subsequent photo pins that follow the first hero image so they can remain grouped together. They drive a 6% to 18% increase in total cart size, and it makes sense why: If you see more, you buy more.
The stats speak for themselves. Pinterest is a great place to be for advertisers, especially if they're seeking new ways of marketing to Gen Z. With all the platform's new features and its growing younger audience, marketing on Pinterest will continue to take on new forms. Instagram along with TikTok and now Pinterest allow advertisers to cover the Gen Z market well. So maybe it's time for advertisers to jump on the bandwagon.