Every year, marketing professionals find themselves doing something they've never done before. It could be as simple as using a new tool in your martech stack. It could also be as complex as launching programs in channels you've never used before. There's always a need for innovation in how we tell brand stories.
It's not just that we all love learning new things—though the fast tempo of the industry is a selling point for many marketers. As brands try to tell their stories in new ways, the creative professionals behind the scenes are often doing things that aren't just new to them. They're doing things no one has ever done, that no one could do before the channels and platforms existed that we use today (and that we'll use tomorrow).
Here are a few key things Pace has learned over 50 years of storytelling innovation for some of the world's most recognized brands.
1. The medium matters, but storytelling is always storytelling
Like all marketing agencies that existed before the age of the internet, Pace had to grow into new digital platforms and media channels as they emerged and became usable.
When we first began launching brand websites and digital content hubs, there was a sense of uncertainty among peer agencies that staffing would shift in a major way, potentially pulling work from content creators for more established channels. Not so with our own teams, however.
"As we evolved from print, video and analog audio into new digital media, it never felt like we were being displaced," says Alicia Corbett, a creative director who joined Pace in 1997, prior to the agency's first website launch. "The attitude was more like, 'You do storytelling.' So rather than restructuring to get a new digital team, Pace invested in what was next and took us along with it."
Our teams have taken on subsequent challenges across the explosive rise of social media, the prevalence of new content formats like six-second video, the advent of the podcast and interactive marketing formats. The new obstacles of 2023—such as generative artificial intelligence and the onset of Web3—require even more ongoing adaptation. Yet while every emerging platform and technology calls for a unique expression of the story we're telling, the story itself is still the beating heart of our creative efforts.
"As we navigated the new digital media landscape, I was still doing storytelling at the end of the day, whether for print or digital channels," says Corbett. "That hasn't changed."
2. Innovation in brand storytelling isn't just about creative services and media formats. It's about effective operations too.
Just as content formats have evolved over 50 years, so have content consumption and monetization. We've seen seismic shifts in how readers, listeners, viewers, gamers and other audiences access and make use of storytelling material. The challenge to keep up—let alone to be a leading innovator—continues to demand not just new creative and new technologies but new operational models as well.
"Embracing new technologies has always been part of what we've done," says Pace Senior Production Director David Brown. "But maybe even more importantly, we've done a lot to come up with new ways to do things with those technologies."
One example is Pace's unique approach to finding and documenting stories for brands we support—a process called Story Corps. Story Corps involves sending our creatives into the field as true journalists, letting them find the real heart of what's happening on the ground. While straightforward in concept, this process is logistically rigorous and challenging.
Challenging or not, our Story Corps approach allowed our creative teams to find powerful brand stories in 49 out of 50 U.S. states within one year for a Pace retail client. Furthermore, the stories they discovered and then told influenced a 70% increase in brand sentiment from employees who engaged with the content.
Other examples of operational innovation have included finding ways to customize content for individual regions of the U.S.—before digital targeting by location was possible—as well as developing custom content creation models, adapting team structures to give clients better access to key talent, and formulating new processes for quick-turn video production.
"On the one hand, we were doing things like buying the very first Apple Macintosh Classics in the early 90s," Brown says. "Figuring out how the technology could speed up our work was one thing. Everyone was doing that. But we went further to find ways we could maintain top-notch quality while getting the work done in a faster, more affordable way."
3. It's the people that make for great stories—and storymaking
The elements that made stories powerful at Pace's founding in 1973 still give stories relevance and emotional weight today. One of our most consistent findings over our 50 years of discovering, developing, formatting, packaging, amplifying and activating stories is that people are the key.
"One of my most surreal Pace experiences has been interviewing actor and director Robert Redford at his Sundance resort in Utah," says Brian Cook, a Senior Editor at Pace. "He was filming The Horse Whisperer in Montana at the time, but he flew in to meet with us. Standing in the 'front yard' of his estate, I held a microphone up to his face and asked him questions for a story I wrote for a car owner's magazine that we published in the late '90s. We've worked with some amazing brands and put our content in front of millions of eyes since we started out, but getting into the stories of people like Redford—a Hollywood icon—is the most amazing part of the work."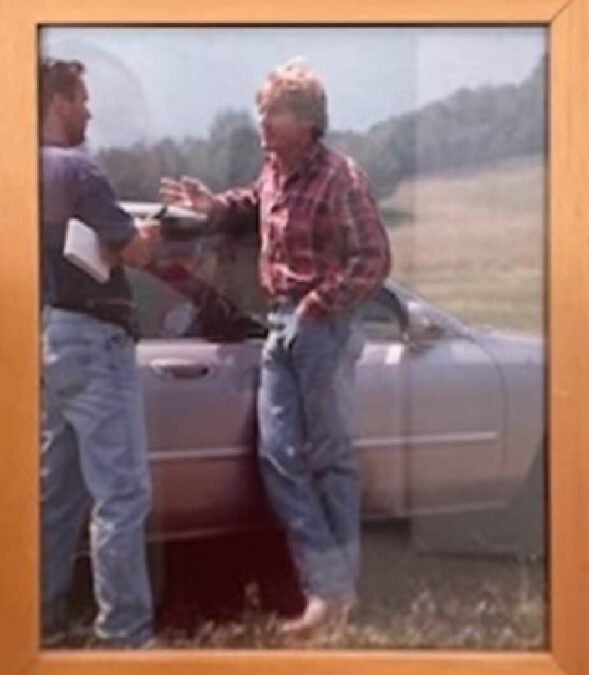 It's people who turn a blank canvas into something. It's people who make up the audience for the stories other people craft. It's people who cause stories to happen—storymaking, not just storytelling—and give each story its reason to be shared.
People comprise the full rhetorical triangle. If you lose sight of those people, you've probably lost sight of the story as well.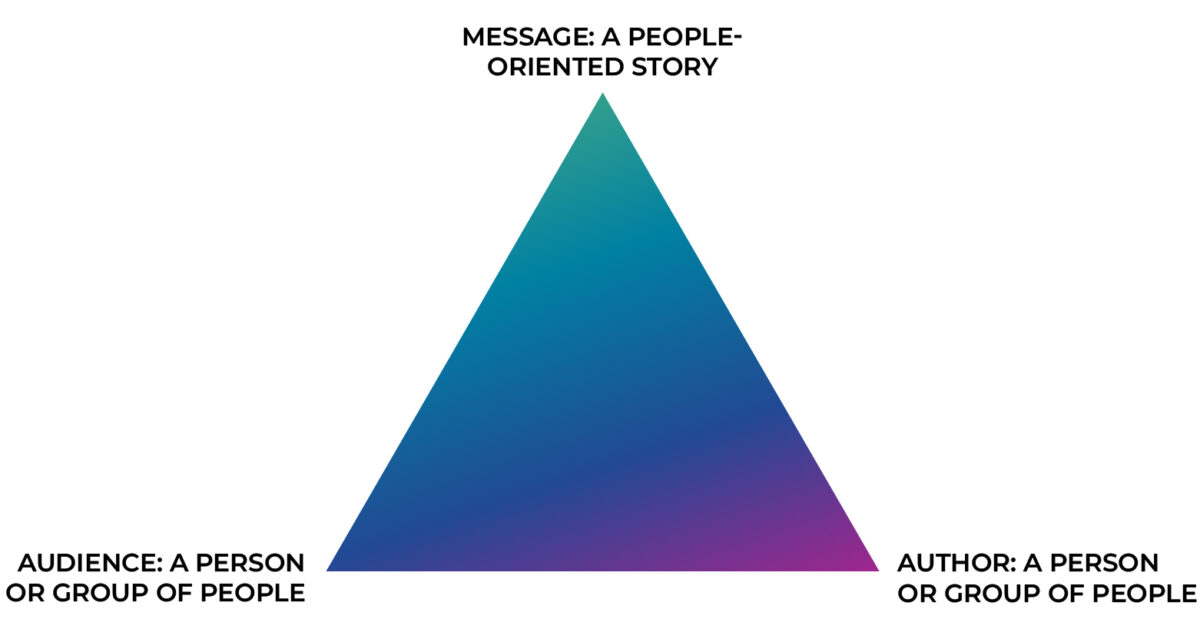 "My work, the creative tools, the whole industry, have changed a lot while I've been at Pace," says Group Creative Director Jaimey Easler. "Change or not, it's still ultimately about having the opportunity to work with such a great group of people over the years."
In sum: Innovation is never complete
There's no check mark for innovation being finished. Our Future of Storymaking initiative exists because we want to keep finding, learning and creating new approaches to the work we care about.
"Our business never stands still. In the more than eight years I have been at Pace, I've seen three big evolutionary steps in our business model and the types of services we offer and clients we land," says Pace President and CMO Gordon Locke. "It all comes from trying new things, failing fast and forward at times, learning lessons … but never giving up the core DNA of crafting the types of stories that drive emotional connections."
"Pace's founder and CEO, Bonnie McElveen-Hunter, lives by the phrase 'It can be done,' and we apply this motto even when working in a field that no agency has yet explored in depth," says Pace President and Chief Operating Officer Leigh Ann Klee. "It's exciting to be on a team that lives this attitude. We continually figure out what the future of marketing should be and bring these ideas to our clients. It can be done."
Subscribe to our monthly Insights email for more content like this. The newsletter is free, and you can opt out any time.