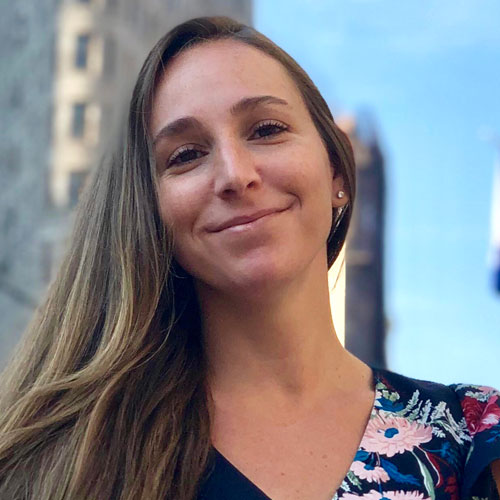 I'm a problem solver, often discovering needs and opportunities most haven't even thought of yet. I'm always looking forward.
Nicole Martin
Managing Director
Nicole was destined to lead from a young age. She used to line up her dolls in her bedroom to educate them on the latest Lite-Brite design techniques. This enthusiastic leadership inspires her teams to pave the way for data-driven success strategies.
Before coming to Pace, Nicole graduated from Elon University and served in various marketing analytics roles at both agencies and large corporations. For the past seven years, she's worked in partnership with clients to create digital marketing strategies that maximize online exposure. She's a proactive problem-solver, always finding opportunities to optimize and grow based on core objectives.
When she isn't dividing her time between the Pace offices, Nicole values the time she spends with her family and staying active. Born and raised in Cleveland, she's a HUGE Cavs fan. She loves the energy a crowd ignites, so concerts and sporting events are always on the family calendar. In both her family life and her work at Pace, Nicole emphasizes the value in sharing and creating experiences.
NEWS AND FEATURES
The Content Marketing Association Webinar—Brand Attachment: The Realm Beyond Brand Loyalty and How to Get There
Pace's Nicole Martin, vice president, Strategy and Marketing Solutions, joins Gordon Locke, President and Chief Marketing Officer, for an impactful 30-minute webinar hosted by the Content Marketing Association to explore the science behind brand attachment and discuss tactical ways brands can move their audiences from loyalty into the realm of attachment.
Employee Storytelling: Why Crafting Emotional Connections to a Brand Gets Great Results
Nicole Martin, vice president, Strategy and Marketing Solutions at Pace, provides five critical lenses to build strong employee storytelling programs along with five tactical tips to get started in this guest blog post for the Content Marketing Association.
The Content Marketing Association Webinar—Internal Communications: Value of Employee Storytelling
This 30-minute webinar led by Pace's Nicole Martin, vice president, Strategy and Marketing Solutions, explores the "why" behind employee storytelling, what brands need for authentic, impactful employee storytelling programs, and how to achieve a successful program despite common obstacles that may arise.
Subscribe to PACE Insights