There are plenty of legitimate reasons why companies should be wary when employees bring their personal interests to the office. Hours spent playing fantasy football or devouring blogs about cooking may be passions that enrich people's lives, but they aren't ones that contribute much to the quality (or quantity) of work accomplished.
The Benefits of Experimentation
There's precocious, and then there's Camilo Perdomo. When Perdomo was just five-years-old, his parents gave him a colored pencil and some paper in hopes that he would amuse himself for a few minutes. Right away, Perdomo, an associate art director at Pace, was enchanted with the playful creativity these simple tools allowed him to pursue. And soon, Perdomo married his his burgeoning interest in art with an early zest for movies. "I clearly remember seeing 'Hunchback of Notre Dame' and walking out and the first thing I would do is draw the movie characters or a scene that really stuck with me," he recalls.
That early spark propelled him on a course that led Perdomo to get a Bachelor of Fine Arts (BFA) degree with a concentration in graphic design. That education helped him to eventually land a spot at Pace, where he works with clients to help form and translate their creative vision into reality – be it on a film shoot, an app or a website. All the while, Perdomo has continued to pursue eclectic artistic interests outside of the office. "I tell people if I can touch it and if I can do anything to it with my hands, it is fair game," he says. That compulsion to experiment has resulted in work ranging from collages to documentary films to a recent series of animal portraits painted using acrylic and charcoal.
"[Clients] are used to seeing work done in a certain way. The idea is to always surprise and delight."
It's no great surprise that a person with creative instincts and interests would eventually find a job that allows him to use those talents daily. What is surprising is how a person's individual creative pursuits inform and benefit the results that are possible for clients. Indeed, when it comes to creative passion, there is no wall separating the personal and professional. In Perdomo's case, his eagerness to take risks and explore a wide array of disciplines on his own time preps him to deliver unique insights and unexpected ideas at work. "Having an array of tools at your disposal when you work in marketing is very important," he says. "Maybe [clients] are used to seeing work done in a certain way. And when you bring a fresh perspective and fearlessness to try new things, it works very well. The idea is to always surprise and delight."

Finding Inspiration in a Swamp
Molly McGinn knows all about the kind of fortuitous cross-pollination that can take place between the personal and professional realms of creativity – and how they can directly benefit one another. McGinn was a musician long before her career in journalism led her to Pace, where she works as a senior digital editor. A fan of everything from Cajun, blues and country rhythms ("stuff that makes you want to move"), McGinn initially picked up a rhythm guitar because her brother needed a sidekick. "My oldest brother started listening to the Grateful Dead and needed someone to practice rhythm guitar while he practiced his lead guitar," she says. "I was Bob [Weir] to his Jerry [Garcia]."
Playing music in her alt-country band, Wurlitzer Prize, and writing songs remains a passion for McGinn, whose approach to songwriting combines her journalistic chops with lush and sometimes fantastical imagery. Last August, McGinn released an album called "Postcards from the Swamp," about the Great Dismal Swamp in eastern North Carolina. McGinn spent over a year researching the history of the swamp – a wild place where runaway slaves found refuge, and a source of inspiration for poets and authors, like Harriet Beecher Stowe – and made numerous road trips to immerse herself in the unique environment of one of America's last largely untouched wilderness refuges. "I take that journalistic approach to songwriting and then bring in some fantastical realism," she says.
"Digital publishing gives you so many ways to tell a story and have a conversation with people."
When it came to release and promote the album, McGinn opted for an approach that took advantage of a number of unique digital storytelling tools. "I released one blog post and one photo and one song for six weeks leading up to the album's release," she says. "I was trying to recreate the LP experience online, where you'd get a record and lay on the living room floor and read the liner notes." McGinn's interest in exploring the seemingly endless possibilities that come from tapping apps, smart phones and social media to tell great stories also proves useful in her client work at Pace. "I feel like digital publishing gives you so many ways to tell a story and have a conversation with people," she says. "It's exciting and it takes practice to figure out how to do it. But I love to lose myself in solving the problems and work with a team of people to do great things."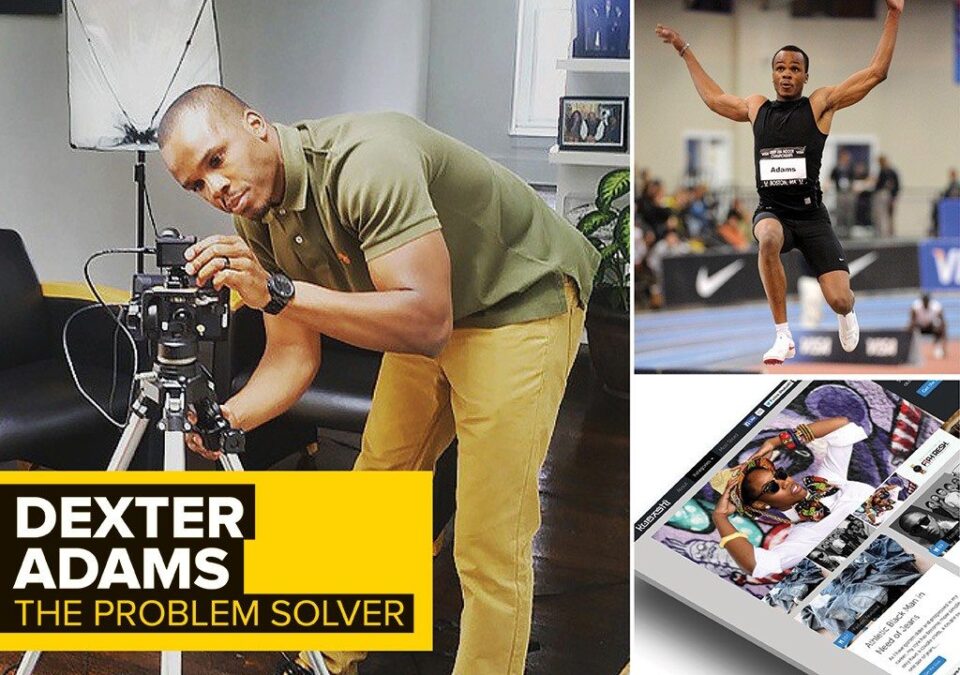 Dexter Adams has always had a competitive drive, both athletically and creatively. During his track and field career at North Carolina State, Adams was exceptional enough to make it to the 2008 U.S. Olympic trials for long jump. But even before he was a world-class athlete, Adams was an artist. Influenced by his musician and artist father, Adams began drawing at a young age and, admittedly so, spent a good portion of high school doodling while his teachers lectured. The training and time demands required to be an elite athlete led Adams to pursue a sports management instead of an art degree in college. After graduation, though, he landed a job at a sports marketing firm: as a graphic designer.
This brought Adams full-circle back to his original creative interests, which he now indulges both in his work as a web developer at Pace and with his own branding and web development company, D.A.P. Design. As with McGinn and Perdomo, the creative interests Adams pursues outside of work benefit how he helps Pace clients create websites that both look good and function flawlessly. "I think it makes me steadily improve what I do at Pace because what I do at home is practice, and what I do at Pace helps me in my personal endeavors," he says.
"As a former athlete, I am extremely competitive, so I want to win, I want to make things work."
Although working on the visuals of a website suit Adams' strengths as an artist and designer, he says there is plenty of creativity involved with the so-called backend web development required to make a site work. "As a former athlete, I am extremely competitive, so I want to win, I want to make things work," he says. "When you can figure out how to make something do what you want it to do and solve problems for clients, that's cool."
The Beneficiaries of Work-Life Balance: Clients
What each of these creative professionals have also come to appreciate is how pursuing artistic interests outside of work also keeps them motivated and inspired. "Painting after work is very freeing and experimental," says Perdomo. "It helps me keep that balance."
There's inspiration to be had here for executives and managers as well. Ensuring that creative employees have the sort of work-life balance that Perdomo values so much isn't just about making sure workers remain fresh and motivated. Encouraging personal creative passions is actually an investment that delights existing clients and attracts new ones.